Security Payment
Product Videos
Check more videos please go to our Youtube Channel: EXHOBBY Youtube

Description
【HIGH SPEED RC BOATS WITH BRUSHLESS MOTOR】The water-cooled brushless motor provide more power to the remote controlled boat Vector SR48 to make waves at 30MPH and blow other radio controlled boats out of the water! Innovative hull design with low resistance, stable racing and fast speed.

【MULT-FUNCTION REMOTE CONTROL BOAT】Auto self-righting features get the RC racing boat back to the game quickly while the boat is capsizing. The special reverse-function will keep you stay away of obtacle, just need to reverse it back to route. Have more fun with the remote control watercraft.

【HAVE MORE FUN WITH THE BRUSHLESS RC BOATS & SHIPS】High waterproof system with only a single cover can keep the water out of fast rc boat. 2.4Ghz radio-controlled distance of over 656ft, good interferrence ability, allows more than 20 remote control boats to be raced at the same time.

【BEST FAST RC BOATS FOR ADULTS & KIDS, BOYS & GIRLS】No matter your skill level, features everything experts and beginners alike want in VectorS. Fully assembled, no installation required. Include all parts needed to get the RC racing boat started. RTR version will make it portable with you wherever you go. Now just have fun with your kids!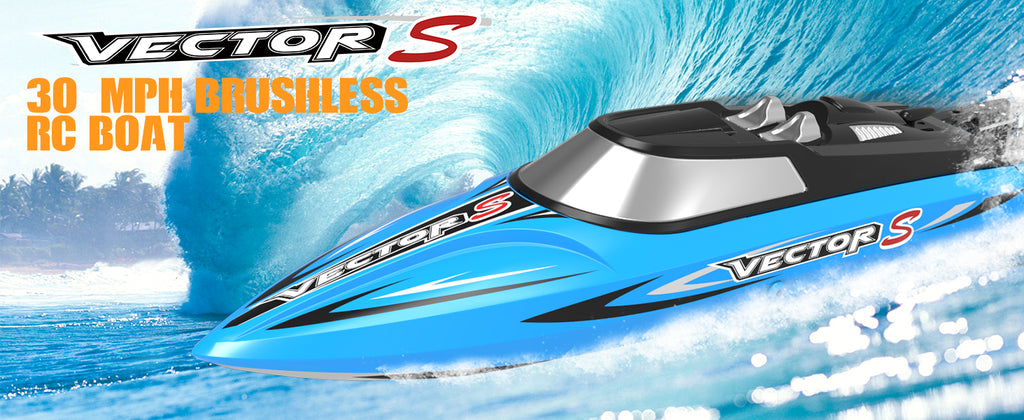 VOLANTEXRC VectorS High Speed Remote Control Boat Brushless RC Boat with Auto Self-Righting Roll Back, Reverse Function for Lakes and Rivers.
This 30MPH High Speed Brushless Remote Control Boat VectorS measured by nearly 18 inches length, can perform excellent steering on water surface. It comes with auto roll back function and reverse function, the RC boat can always upright itself back and keep a right racing direction in rivers or lakes. The moment you and your kids get along with it together will be much more fun than ever before. Will be a ideal Gift for adults and kids, for boys and girls. The best gift for Kids and Adults for birthdays, anniversaries, farewell, best wishes, Halloween, Thanksgiving, Christmas, New Year's!
Precautions:
Please fully charge the battery before play with it.
Do not use damaged/leaky batteries or a damaged charger.
Please always accompany your kids together to play the RC boat in pools and lakes.
Please read all through the manual completely before play and follow the instructions carefully.
Be aware of the importance to disconnect the battery pack and remove it from the RC boat when not in use.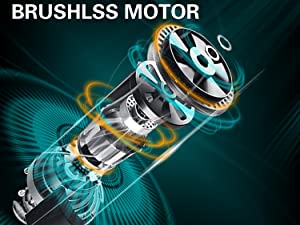 Powerful Brushless Motor
Water-cooled brushless motor bring more power to this remote control boat Vector SR48, easily run at high speed 30MPH and make amazing waves.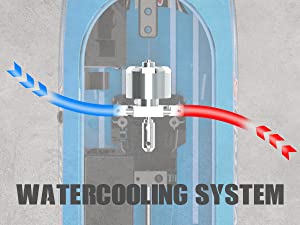 Excellent Watercooling System
With automatic water cooling system, to extend the running life of this brushless rc boat, against overheating.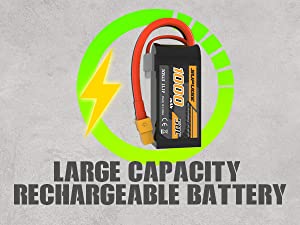 Rechargeable Battery
Large capacity rechargeable batteries for longer play time in pools or lakes, getting more fun with your kids.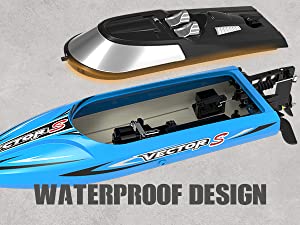 Waterproof Hull Design
Total RC boat body being assembled hermetically, make it fearless to driving in pools and lakes. While with cool streamlined hull shape, assist to lower a lot water resistance for better control and faster racing.
2.4GHZ Remote Control
The 2.4GHz wireless remote control technology allows several players to compete remotely at the same time and let you perform the stunt without interference.
Reverse Function
The special reverse-functional ESC design will prevent you from front obstacles, just need to reverse the RC boat back to route and then keep enjoying fun with it.
Ready to Run (RTR)
Completely Assembled for quick start
Within 1 minute after unpacking, you will be able to get started and enjoy the fun! What's more fun is the fully assembly package will make it portable with you whereever you go, to picnic, hiking etc.
CAUTION:
This is a sophisticated hobby product and NOT a toy. It must be operated with cautions. Please fully charge the battery every 3 months if you don't use this plane. Please read all through the manual completely before play and follow the instructions carefully.Actual product may vary slightly from photos shown.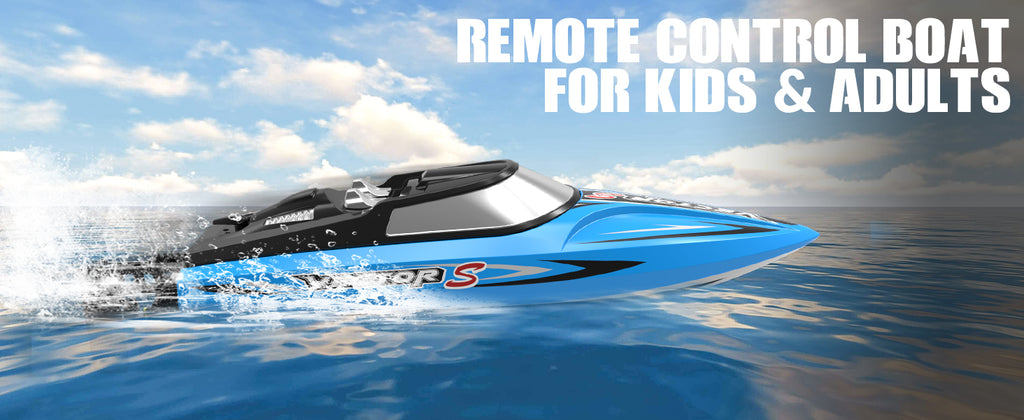 Product Specifications
b.Color

:

Blue

b.Length (in)

:

15

c.Material

:

ABS Hull

d.Flying/Running Time

:

7 mins

d.Max Speed (mph)

:

25

d.Radio

:

2.4GHz Pistol Radio

e.Motor

:

BL 2212/2600KV Water-cooled

e.Servo

:

9-gram Servo * 1pcs

e.Speed Control

:

Brushless Water-cooled ESC 20A

g.Charger

:

B3 10W Balance Charger

g.Recommended Battery

:

11.1V 1000mAh Lipo (included)

k.Experience Level

:

Beginners

k.Where To Play

:

Lake

m.Assemble Required

:

No