Payment & Security
Your payment information is processed securely. We do not store credit card details nor have access to your credit card information.
Description

VOLANTEXRC 5-Channel RC Sailplane RC Glider ASW 28 Plug-and-Play (PNP) with
2.6-meter wingspan

,

unibody ABS plastic hull

and

strong EPO foam

The Volantex ASW 28 is a 2.6-meter wingspan large sailplane. It comes with an almost indestructible unibody ABS plastic hull and strong EPO foam wings and tail section. With its smooth, stiff hull, the ASW 28 is durable for a lifetime and yet light enough for the glider to work without any problems. The huge space inside fuselage is able to carry big capacity batteries.
Professional Level RC Glider
2.6M wingspan and super slim streamline fuselage brings super stable flying performance and make the plane can slowly glide that you will have more fun.
Durable Material
Strong Plastic Fuselage provides flexibility and durability to keep the plane from crashing damages.
Sporty Flying Performance
5 channel remote control airplane, your high control skills can be shown to other people.Due to the glider design, the remote control plane can slowly fly in the sky without power support when it on high altitude. It save more power and have a longer flight time up to about 30min. You can have more fun with it!
Click & Plug Easy Wing Mounting
Easy to install, Assembly Time less than 20 minutes.
Plug And Play
Include all electronic parts of the model, customer needs to purchase the transmitter, receiver, battery, and charger additionally.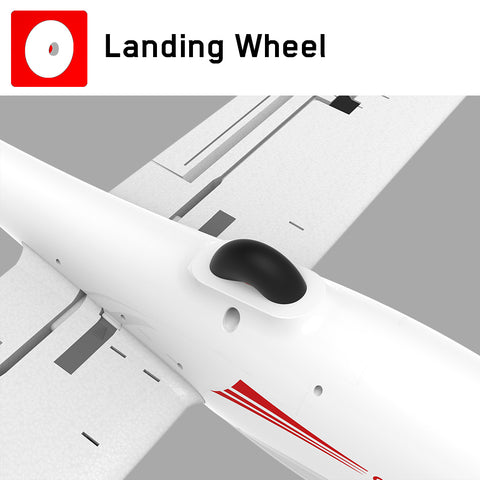 2.6m Glider Airplane with Landing Wheel
Accessing the battery is easy through the canopy with four small snap locks that keeps the canopy secure.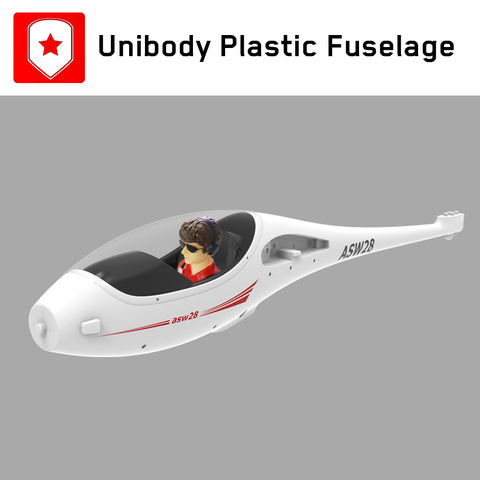 Durable Unibody Plastic Fuselage
Special unibody plastic fuselage design, this rc glider is simple, stable and easy to control whether you are a beginner or experts.
Click & Plug Easy Wing Mounting System
New design wing mounting system--PLUG & CLICK. It is easy to assemble according to the detailed user manual.

b.Color

:

Red

b.Height (in)

:

4

b.Length (in)

:

44.5

c.Flying/Running Weight (lbs)

:

2.31

c.Material

:

EPO & Plastic

c.Weight (lbs)

:

0.088

d.Radio

:

2.4Ghz 5-Channels

e.Motor

:

4023/850KV

e.Propeller Size (in)

:

1060 folding Propeller

e.Servo

:

9g Servo*6pcs

e.Speed Control

:

ESC 30A

Flaps

:

Yes

g.Charger

:

LiPo charger

g.Recommended Battery

:

11.1V 2200mAh Li-Po

k.Experience Level

:

Beginner~Expert

k.Where To Play

:

Outdoor

m.Assemble Required

:

Yes