Security Payment
Product Videos
Check more videos please go to our Youtube Channel: EXHOBBY Youtube

Description
he VolantexRC Jet F-16 with gyro is one of the best RC airplanes for beginner kids and adults. It comes with Aileron, great sport performance, with one key aerobatic, 6-axis gyro, one key return and durable EPP material.
XPILOT STABILIZATION SYSTEM EASY TO FLY- xpilot gyro stabilizer ultra stable self stabilization of gyro system. Powerful over-grade motor system allows easy controlling to do aerobatic flying. It's a great remote control planes for beginners, adults.
BEGINNERS' FIRST RC AIRPLANE TRAINER- 3-level flight control assists (Beginner level with full assist/ Intermediate with partial assist/ Expert for manual control) help beginners learn to fly step by step.
GREAT AIRPLANE FOR OUTDOOR ADVENTURE- 2.4Ghz Radio Control distance of 656 ft, the strong anti-interference capability allows to hold a small flight club party between you and your friends.
LONGER FLYING, MORE FUN WITH YOU- The gear box system provides more thrust and power to increase speed, and more efficient to save battery's power, allowing the plane to fly a long time about 20 minutes.
FULLY ASSEMBLED READY TO FLY- This version includes everything needed to get the model started, only the batteries for transmitter are required. It is fully assembled to get the plane take off within 1 minutes out of box. Portable package to go with you everywhere.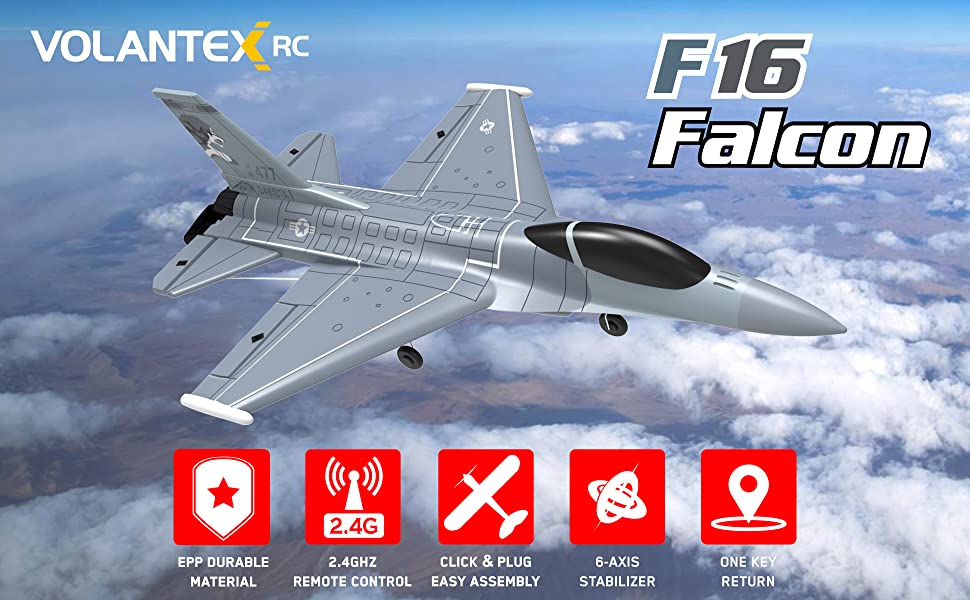 VOLANTEXRC 4-Channel RC Trainer Airplane F-16 Fighting Falcon with Xpilot Stabilization System, One Key Aerobatics and One-Key U-Turn
The F-16 Flighting Falcon is a small size airplane but with excellent performance. Due to the integrated Xpilot gyro stabilizer system, with over-grade powerful motor system, the plane flies stably, react nimbly and able to do aerobatics even in little windy environment.
Specifications:
Material: EPP Foam

Dimension: 336*260*97mm

Motor: 10mm coreless motor

BatTery: 3.7V 380mAh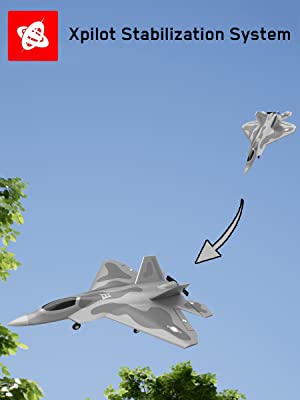 Great Remote Control Airplane: Easy to Control
Xpilot gyro stabilizer system provides superb stable flying even controlled by rookie pilot.
The self-stabilization of gyro system will help flying in any weather condition even in windy days.
3-level flight control assists(Beginner level with full assist/ Intermediate with partial assist/ Expert for manual control) help beginners learn to fly radio control airplane step by step.
XPILOT Stabilization System is a trustable flight control assistant that helps beginner get started to enjoy flying easily.
- Easily learn to fly with 3 levels- strong assist for beginner, soft assist for advanced, no assist for expert.
- Stabilize your plane in windy conditions.
-One-key aerobatic to make you a star pilot in one second.
2.4GHz Radio Control
The 2.4Ghz control system allow multiple aircrafts to fly together at the same time without signal jamming problem. And flying range far away to 200 meters. You can play it with your friends and have more fun.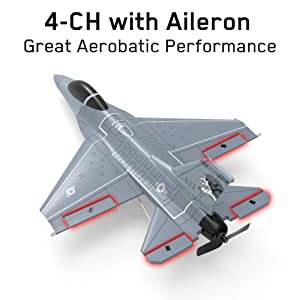 4-CH with Aileron
RC airplane equipped with durable aileron that can help rc hobby enthusiasts to control well in unexpected weather condition, fly with much more flexibility and better steering and aerobatic performance.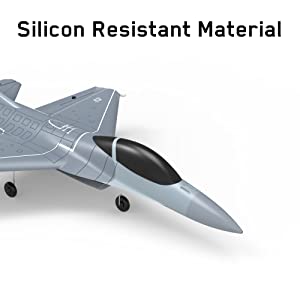 Silicone Resistant Material
Made of high quality EPP foam and silicon resistant material, rc plane be more lightweight and portable, got higher speed and flying experience in sky for you, find this amazing rc fighting jet for yourself or your friends !
Note:
1. If the airplane or battery that you received is defective you could get a replacement easily.
2. Please connect the battery to airplane first and then turn on the transmitter within 3 seconds, the transmitter will automatically bind to the airplane and you are able to fly it.
3. If the airplane doesn't fly straightly you could follow the instruction manual to push the trimmer buttons to make the rudder centred.
4. If you want to use the one key u-turn function please follow the instruction manual to activate it before flying the airplane, if you don't do that this function would not work when you press the one key u-turn button.
5. If the airplane impact something and causes the nose be disconnected, you could stick the nose back to the airplane by glue freely.
6. If you need any replacement parts to fix the airplane out you could find them in our store.
IMPORTANT
Just for your information, F16 Fighting Falcon doesn't have expert mode/ manual mode.
All the three modes will have gyro stabilization on. Once the transmitter is turned on, the plane's control surfaces will not back to position (centered).
However, when you fly it in the air, it will react normally. Please check the control surfaces when the transmitter is power off.

When you take off it, please take off with FULL throttle, throw it up in the air and against the wind.
Just follow these steps and you will be able to fly it successfully.
Product Specifications
b.Color

:

Grey

b.Length (in)

:

12.60

b.Wingspan / Width (in)

:

15.75

c.Flying/Running Weight (lbs)

:

0.13

c.Material

:

EPP

d.Channels

:

4-CH

d.Flying/Running Time

:

14 minutes

d.Radio

:

2.4Ghz

e.Motor

:

10mm coreless motor

e.Propeller Size (in)

:

2.56

e.Servo

:

2g Servo

e.Speed Control

:

Gyro Integrated

g.Charger

:

USB Cable

g.Recommended Battery

:

3.7V 400mAh lipo

Gyro Stabilization

:

Yes

k.Experience Level

:

Intermediate ~ Expert

k.Where To Play

:

Outdoor

m.Assemble Required

:

No

One-key Aerobatics

:

Yes

One-key Return

:

Yes

Skill Level Required

:

5/5