Security Payment
Product Videos
Check more videos please go to our Youtube Channel: EXHOBBY Youtube

Description
EASY TO CONTROL WITH ONE KEY FUNCTION: Simply press one button and pull the stick to control easily the airplane do aerobatic flying. Xpilot stabilization system ultra stable self stabilization of gyro system.

BEGINNERS' FIRST RC AIRPLANE TRAINER: 3-level flight control assists(Beginner level with full assist/ Intermediate with partial assist/ Expert for manual control) help beginners learn to fly step by step.
GREAT AIRPLANE FOR OUTDOOR ADVENTURE: 2.4Ghz Radio Control distance of 656 ft, the strong anti-interference capability allows to hold a small flight club party between you and your friends.
LONGER FLYING, MORE FUN WITH YOU: The gear box system provides more thrust and power to increase speed, and more efficient to save battery's power, allowing the plane to fly a long time about 20 minutes.
PLUG AND PLAY VERSION: The PNP version doesn't include transmitter, charger and batteries which you need to purchase them additionally, but all electronic parts of the model are Included.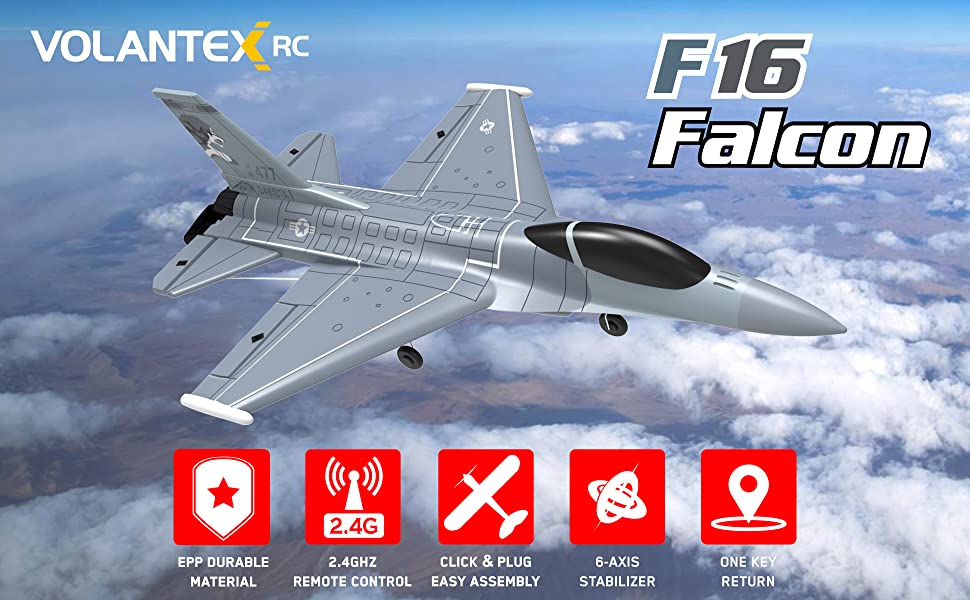 VOLANTEXRC 4-CH Jet F-16 Fighting Falcon RTF with Xpilot Stabilizer, Perfect for Beginners (761-10) PNP
VOLANTEXRC PNP version rc plane F-16 Fighting Falcon, only comes with plane, without transmitter, battery and charger.
IMPORTANT
Just for your information, F16 Fighting Falcon doesn't have expert mode/ manual mode.
All the three modes will have gyro stabilization on. Once the transmitter is turned on, the plane's control surfaces will not back to position (centered).
However, when you fly it in the air, it will react normally. Please check the control surfaces when the transmitter is power off.

When you take off it, please take off with FULL throttle, throw it up in the air and against the wind.
Just follow these steps and you will be able to fly it successfully.
Product Specifications
b.Color

:

Grey

b.Length (in)

:

12.60

b.Wingspan / Width (in)

:

15.75

c.Flying/Running Weight (lbs)

:

0.13

c.Material

:

EPP

d.Channels

:

4-CH

d.Flying/Running Time

:

14 minutes

d.Radio

:

2.4Ghz

e.Motor

:

10mm coreless motor

e.Propeller Size (in)

:

2.56

e.Servo

:

2g Servo

e.Speed Control

:

Gyro Integrated

g.Charger

:

USB Cable

g.Recommended Battery

:

3.7V 400mAh lipo

Gyro Stabilization

:

Yes

k.Experience Level

:

Intermediate ~ Expert

k.Where To Play

:

Outdoor

m.Assemble Required

:

No

One-key Aerobatics

:

Yes

One-key Return

:

Yes

Skill Level Required

:

5/5