Description
1:14 SCALE REMOTE CONTROL DRIFT CAR: This car can be driven forward, backward, left, and right. The remote control is very easy to be operated, so not only the adults but also children can enjoy a big fun with it. The flexible car shell makes it not easy to be damaged by impact during running. You don't have to worry about tire wear because the wheels are detachable and replaceable.

COLORFUL LED LIGHTS: This car is equipped with a pair of LED lights. When the car is powered on, the lights will start to flash gorgeously. Different colors of lights will bring you a new visual impact.

4 WHEEL DRIVE SYSTEM:This drift car designed with 4 wheel-drive system which allows the car to conquer different awful environment or drift on road easily , it would provide you with a realistic racing experience.

2.4GHZ REMOTE CONTROL TECHNOLOGY: The 2.4Ghz technology allows multiple remote control cars to be played together without interference with each other. The remote control distance of this car is up to 328ft, the fully 7.4V rechargeable battery can support this car to continuously run for 20-25 minutes which will bring you a long happy time.

READY TO RUN: The box comes with everything needed to get the car started, not only the car, transmitter, charger, spare parts but also includes the battery for transmitter. It is fully assembly to get the car run within 1 minutes out of box. Portable package easy to be carried with wherever you go.

Remote Control Drift Car: Easy to control for kids and adults
CAMEL AREA is a remote control car which has a good looking like a real racing car. The powerful motor and 4 wheel drive system allow it to drift on road in all directions. Colorful LED lights make it catch everyone's eyes even if it stands with multiple cars.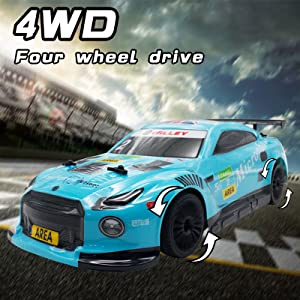 Four Wheel Drive
4 wheel-drive system makes the car go forward, backward, left, right and drift on load in all direction easily.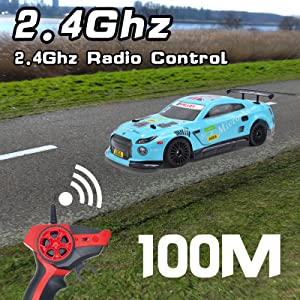 2.4Ghz Radio Control
Allow multiple cars run together at the same time without any interference, you can race the car with your friends or family to have more fun.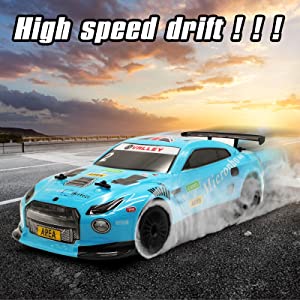 High Speed Drift
The drift car for boys and adults can perform cool U-shaped drift and Figure 8 drift. What it brings to you will be amazing and thrill, like a real car and as your expected.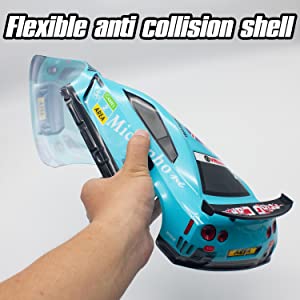 Flexible Anti Collision Shell
High quality PVC car shell with enough flexibility to prevent the car from crash broken in high speed rc racing game.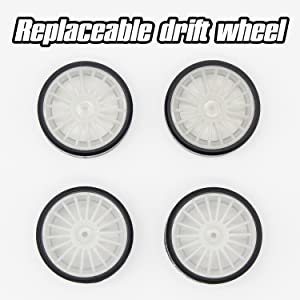 Flexible Anti Collision Shell
High quality PVC car shell with enough flexibility to prevent the car from crash broken in high speed rc racing game.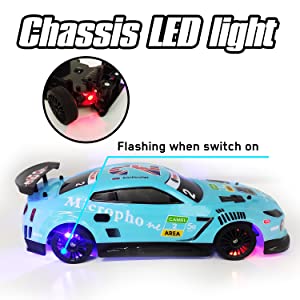 Chassis
High Speed 4WD RC drift car also equipped with chassis led light inside, when power on, there will have cool flashing light coming together with your racing and drifting.

How to Change Tires
Firstly use the screwdriver to screw out the wheel, replace the new one on, then screw it tightly. Will be easy to operate.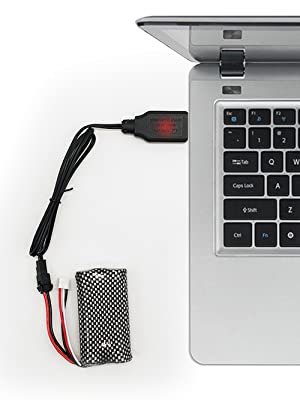 USB Charging for Convenient RC Play
Charging Guide
1、Power off your rc racing vehicle.
2、Carefully plug the charger into USB port on your computer or USB adapter.
3、Connect battery into the charger to start toy car charging.
4、Total charging time need 3.5 hours, for battery safety, never charge it for over 4 hours.
5、When charging, the red light is solid, green light is flashing, job done when the red light off and green trun to solid.
Specification
Box Size: 16.1 x 6.85 x 6.22 inches
Weight: 2.31 pounds
Battery Volts: 7.4V
Control Distance: 328 ft
Playing Time: 20-25 minutes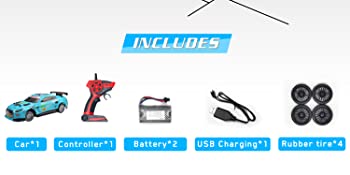 ">
Package Included:
1x 1/14 Scale RC Drift Car
1x 2.4GHz Remote Controller
2x Battery for RC Car
1x USB Charger
4x Rubber Tires
SAFETY: Adult supervision required for users under age 14
Payment & Security
Your payment information is processed securely. We do not store credit card details nor have access to your credit card information.