Description
HIGH SPEED DRIFTING RC CARS - Equipped with 4WD system and powerful motors which make this RC drifting car speeds topping to 25km/h. To ensure the high speed driving performance and have fun with your kids.
ANTI-INTERFERENCE CONTROL TOY CAR - With the 2.4GHz frequency remote control system, allows you to play a match with your friends without any interference. You can enjoy fast racing and drifting fun together.
FANTASTIC CHASSIS LED LIGHT - This remote control car is equipped with a pair of LED lights, the lights shine brightly which makes this RC car amazing even at night. Cool flashing light coming together with your racing and drifting.
STRONG & FLEXIBLE ANTI COLLISION SHELL - The fast and furious rc drift car shell is made of PVC, it embraces high flexibility to bear crashes and roll over, to prevent this fast rc car car from crash broken in high speed RC racing game.
WITH 2 RECHARGEABLE BATTERIES - The rc drift cars for adults equipped with two Li-Po 7.4V 1200mAh rechargeable batteries, which make this high speed remote control cars for boys and adults to run for up to 40 minutes at a time.

1/14 Scale 4x4 RC race cars for Kids and Adults, great moments and outdoor funs
This rc drifting car with the professional design and smart remote controller will bring you a wonderful experience. The non-interference remote controller with 2.4GHz frequency makes the rc car always ready to run, allows multiple users to play at the same time. The RC drifting cars are suitable for Christmas, Birthday, Halloween and other festival gifts.
Fast 4WD RC Cars for Adults
This 4 wheel drive high speed RC racing car is equipped with high quality and durable components to bring you fantastic driving experience.
Quick Response with Super Long Control Distance
Equipped with a 2.4GHz full-scale remote control system offers extended range and interference free performance.
High Speed RC Drift Car
This rc drift car can drift forward and backward, left and right, feeling the real speed as your expected. Fast and furious rc drift car can perform cool U-shaped drift and also Figure 8 drift, to bring you incredible driving experience.
Anti Collision PVC Car Shell
This rc drifting car with high quality PVC material shell which makes the racing car drive on all terrain freely. The RC car body is extremely durable.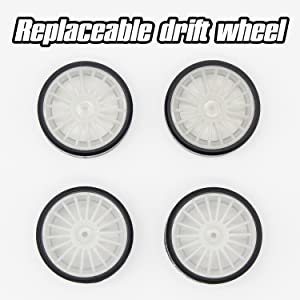 4 Replaceable Drift Wheels
Comes with four drift dedicated tires. You can just enjoy drifting by these tires and racing funs with your kids and friends. Enjoy it!!!
Flashing chassis LED light
Equipped with chassis LED light makes this remote control car more fantastic. The LED light on the bottom, which give kids better playing experience, easy to operate with the on/off switch.

How to Change Tires
Firstly use the screwdriver to screw out the wheel, replace the new one on, then screw it tightly. Will be easy to operate.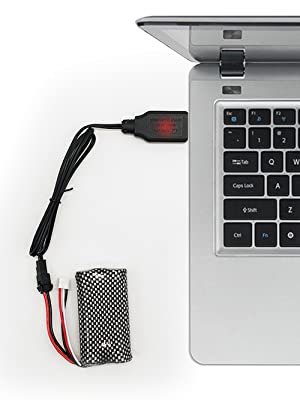 USB Charging for Convenient RC Play
Charging Guide
1、Power off your rc racing vehicle.
2、Carefully plug the charger into USB port on your computer or USB adapter.
3、Connect battery into the charger to start toy car charging.
4、Total charging time need 3.5 hours, for battery safety, never charge it for over 4 hours.
5、When charging, the red light is solid, green light is flashing, job done when the red light off and green trun to solid.
Specification
Box Size: 15.79 x 6.97 x 6.14 inches
Weight: 2.33 pounds
Battery Volts: 7.4V
Control Distance: 328 ft
Playing Time: 20-25 minutes
Package Included:
1x 1/14 Scale RC Drift Car
1x 2.4GHz Remote Controller
2x Batteries for RC Car
2 x AA batteries for RC Transmitter
1x USB Charger
4x Rubber Tires
SAFETY: Adult supervision required for users under age 14
Payment & Security
Your payment information is processed securely. We do not store credit card details nor have access to your credit card information.