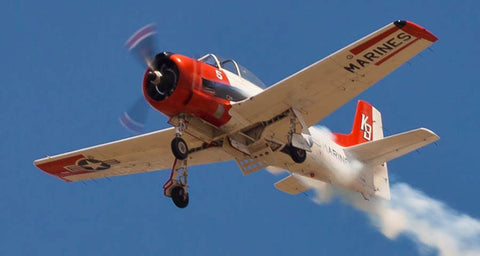 Military History
Designed by North American Aviation as a replacement for the T-6 Texan, the T-28 Trojan entered production in 1950. There were three versions of this trainer aircraft that were initially produced by NAA. The AIr Force version (T-28A) was powered by an 800 hp engine. The Navy and Marine Corps version (T-28B) was powered by a 1,425 hp engine. A T-28C was created with the larger engine and a tailhook to allow it to be used for carrier training. When production ended in 1957, a total of 1,948 of the three versions had been built.
Beginning in 1962, the AIr Force began modifying T-28A's into T-28D Nomad tactical fighter-bombers. The T-28D had the larger engine and other modifications. The T-28D proved to be very effective in counter-insurgency warfare and close air support in the Vietnam war, and was used by both U.S. forces and the South Vietnamese Air Force (VNAF).
The T-28 was used by the various branches of the U.S. Military from 1950 into the 1970's.
Many remote control plane companies have followed the example of this T-28 to manufacture the T-28 fighter remote control aircraft, which has been recognized and sought after by countless model aircraft enthusiasts. The smooth fuselage lines and the harmonious choice of color matching, this almost perfect design quickly became popular in the industry and became one of the very famous remote control fighters in the model aircraft industry. The T-28 launched by EXHOBBY has also achieved very good sales on the Amazon platform.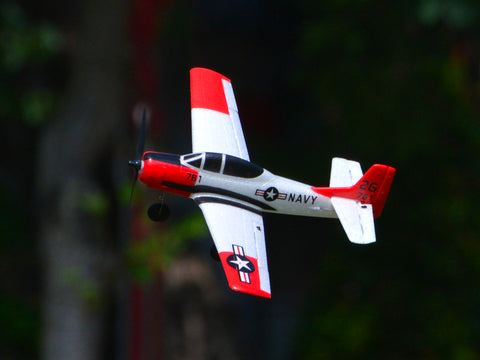 Description
-XPILOT STABILIZATION SYSTEM EASY TO FLY
-BEGINNERS' FIRST RC AIRPLANE TRAINER
-GREAT AIRPLANE FOR OUTDOOR ADVENTURE
-MORE LONGER FLYING, MORE FUN WITH YOU
-FULLY ASSEMBLED READY TO FLY
If you are interested in this product you can click here.:)