F-22 Fighter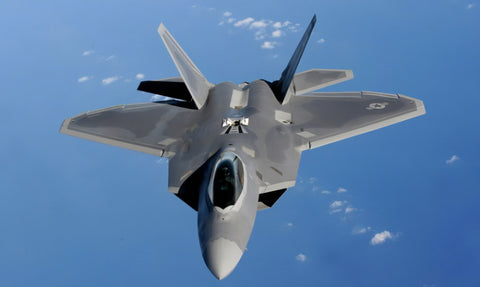 F-22 Fighter, codename: Raptor, common name: Lockheed Martin F-22 "Raptor".It is a single-seat, twin-engine, highly stealthy fifth-generation fighter in the United States, and the world's first fifth-generation fighter to enter service.
    The combination of stealth performance, agility, accuracy and situational awareness, combined with its air-to-air and air-to-ground combat capabilities, makes it the world's most comprehensive fighter in the world.
    The F-22 fighter jet was jointly developed by Lockheed Martin and Boeing and entered service with the U.S. Air Force in the early 21st century to replace the F-15 Fighter plane. Lockheed Martin was the main contractor and was responsible for designing most of the fuselage, weapons systems and the final assembly of the F-22. Program partner Boeing offers wings, rear fuselages, integrated avionics systems and training systems. But the lack of clarity on air-to-air combat missions due to the F-22's high manufacturing costs, delays in plans for Russian and Chinese fifth-generation fighter jets, raptor export bans, and other use plans (including the F-35 and drones) led to an early termination of the F-22's production plans. In April 2009, the U.S. Department of Defense recommended that new orders be halted and that 187 fighter jets be purchased with congressional approval. The FY2010 National Defense Authorization Act resulted in a lack of funding to produce additional F-22s. The launch ceremony for the last F-22 was held at Dobbins Air Reserve Base on December 13, 2011.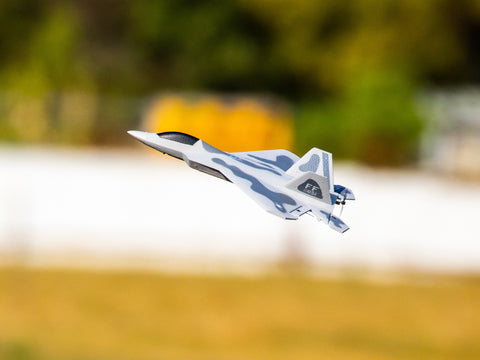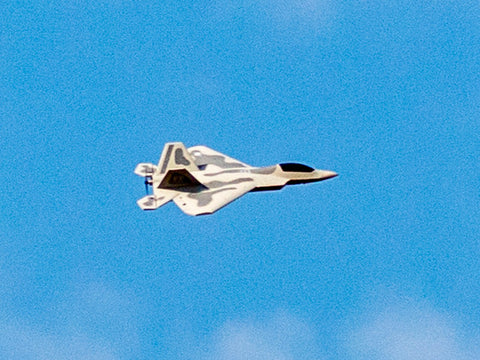 VOLANTEXRC rc airplane/jet F-22 Raptor easy flying designed for beginners, with 6-Axis Gyro system. 3-level flight control assists provides easy flying control, not mentioning to do aerobatic flying by simply pressing one button.
EASY TO CONTROL RC Airplane With ONE KEY FUNCTION:Simply press one button and pull the stick to control the F22 Raptor easily to do aerobatic flying. Xpilot stabilization system ultra stable self stabilization of gyro system.

BEGINNERS' FIRST RC AIRPLANE TRAINER: 3-level flight control assists(Beginner level with full assist/ Intermediate with partial assist/ Expert for manual control) help beginners learn to fly step by step.

GREAT RC Airplane  FOR OUTDOOR FLYING:c 2.4Ghz Radio Control distance of 656 ft, the strong anti-interference capability allows to hold a small flight club party between you and your friends.

MORE LONGER FLYING, MORE FUN WITH YOU: The gear box system provides more thrust and power to increase speed, and more efficient to save battery's power, allowing the RC Plane to fly a long time about 20 minutes.

TWO VERSION OPTIONAL: The RTF version includes everything needed to get the model started, only require 4pcs AA batteries for transmitter. The PNP version only includes an airplane model, no transmitter no battery no charger, just for replacement(for someone who lost his/her original F22 RC Plane but still keep the transmitter, battery and charger).
  If you are interested in this product,you can click here.
  Or you want to learn more other prodtct you can click here.
  Enjoy it. :)