Payment & Security
Your payment information is processed securely. We do not store credit card details nor have access to your credit card information.
Description
Ranger 1600 is easy to assemble and features a large wingspan for stability in the air. Take to the skies with this durable glider with optional FPV camera mounting.
INNOVATIVE UNIBODY PLASTIC FUSELAGE: The plane is a uni-body aircraft with a plastic fuselage that offers flexible, lightweight protection in case of crash landings.
SUPER EASY TO ASSEMBLY RC GLIDER PLANE: Use the wing clips to click and plug the wings into the fuselage. After flying, simply squeeze the clips to release the wings and easily store the plane in your car.
MULTIPLE CAMERA MOUTING PLATFORM: A pre-cut hole and a flat bed for mounting cameras gives you the option of adding different FPV camera, transforming your glider into the perfect FPV model.
REMOTE CONTROL GLIDER AIRPLANE PNP VERSION: One rc plane with servo, brushless motor, brushless ESC; but no radio transmitter, no reciever, no battery, no charger. --- Wingspan: 1600mm (63"), Length: 1100mm (43.3"), Flying weight: 1050g; Servo: 4pcs*9g; Motor: BL 2212/1400KV; ESC: 30A Brushless ESC.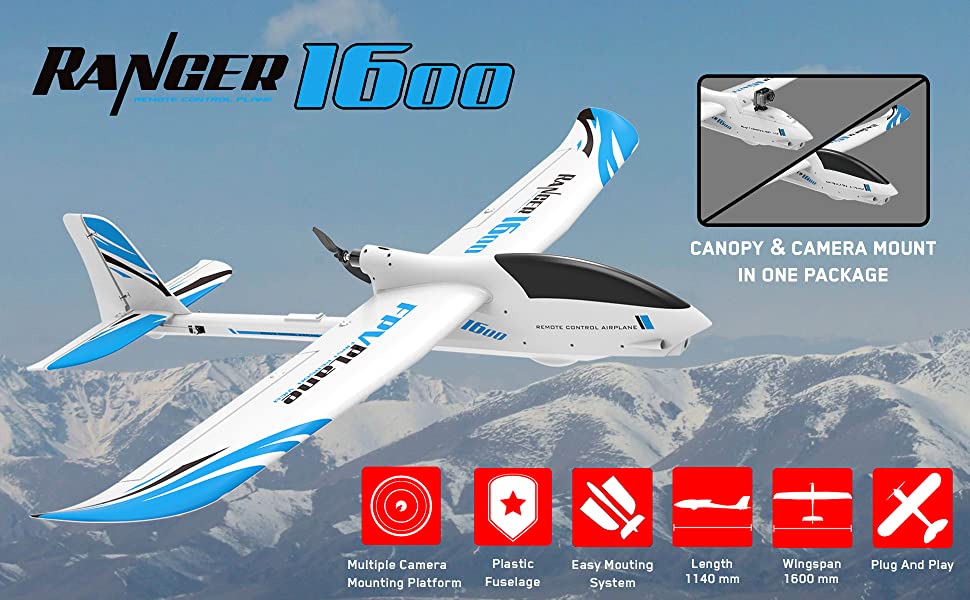 VOLANTEXRC RC Pusher Glider Airplane Ranger1600 Electric Sailplane 1.6m Wingspan & Durable Plastic Fuselage PNP version NO Trainsmitter NO Battery
Enjoy high-altitude aerial fun with VOLANTEXRC new and high quality remote control glider airplane Ranger1600. Ranger1600 is a sport scale model that does incorporate flaps unlike its full-scale counterpart.
This airplane features an approx 1600mm long wingspan and installing the wings is now easier with a plastic latch for securing the wings. The airframe is single-body design and made by durable blow molded plastic. The fuselage has the capacity for an FPV camera and related components.
WHAT ARE INCLUDED IN PNP (PLUG-AND-PLAY) VERSION:
1*airplane model
1*decals
1*2212/1400KV brushless motor
1*30A brushless esc
4*9g servo
WHAT DO YOU NEED TO GET THE AIRPLANE FLY:
1*transmitter (4 channel or more than 4 channel)
1*receiver (4 channel or more than 4 channel)
1*11.1V 2200mAh xt60 plug Lipo battery
1*11.1V(3s) lipo battery balance charger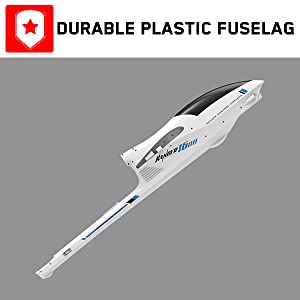 Durable Unibody Plastic Fuselage
Special unibody plastic fuselage design, this glider is simple, stable and easy to control whether you are a beginner or experts.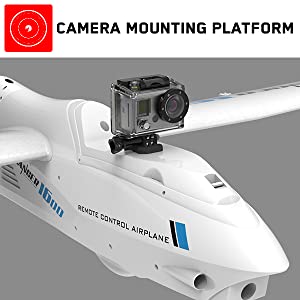 FPV Model Glider Airplane
TRemove the black canopy to reveal a flat bed for mounting different cameras, transforming your glider into the perfect FPV model or videography vehicle.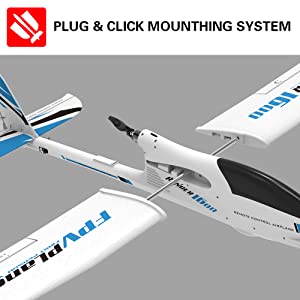 Easy Wing Mounting System
New design wing mounting system--PLUG & CLICK. It is easy to assemble according to the detailed user manual.

b.Color

:

Blue

b.Length (in)

:

44.88

c.Flying/Running Weight (lbs)

:

2.31

c.Material

:

EPO & Plastic

c.Weight (lbs)

:

2.31

d.Radio

:

2.4Ghz 4-Channels

e.Motor

:

2212/1400kv brushless motor

e.Propeller Size (in)

:

8"Propeller

e.Servo

:

9-gram Servo * 4pcs included

e.Speed Control

:

30A Switch-mode BEC brushless ESC

Flaps

:

Yes

g.Charger

:

Balance charge+Power adaptor

g.Recommended Battery

:

11.1V 2200mAh lipo

k.Experience Level

:

Advanced Pilot

k.Where To Play

:

Outdoor

m.Assemble Required

:

Yes