Payment & Security
Your payment information is processed securely. We do not store credit card details nor have access to your credit card information.
Description

RC 25W 2S-3S LiPo Battery Balancer Charger 7.4-11.1V RC Pro Compact Charger B3AC Pro
This charger is compact and light, which can charge 2S or 3S battery pack, especially there is separated corresponding balance port for each battery pack.
Note:
1.The indicator light will be red when battery is being charged and it will turn into green when battery is fully charged.
2.This charger is only suitable for 2-3s lipo batteries.
3.Please follow the instruction manual to charge the battery, make sure that the battery is connected to the charger correctly.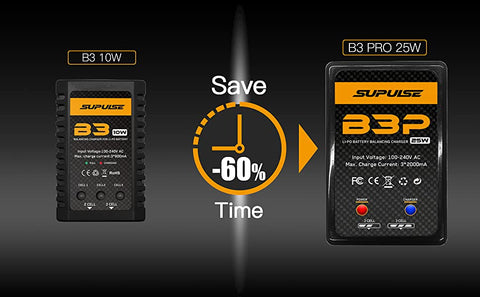 <
Battery Type

:

Li-Po

c.Flying/Running Weight (lbs)

:

0.18lb

Charger Power

:

25W

Discharge Power

:

NO

Display

:

Green & Blue LED

For LiPo Cells

:

2s-3s

Input voltage

:

100-240V AC

Max Output Current

:

3*2000mA