Rock crawling is one of the most exciting forms of remote control car racing, and the RACENT 1/24 scale Rock Crawlers are among the most popular models on the market today. Whether you're an experienced racer or a newcomer to the world of RC cars, this comprehensive guide will give you all the information you need to choose the best Rock Crawler for your needs.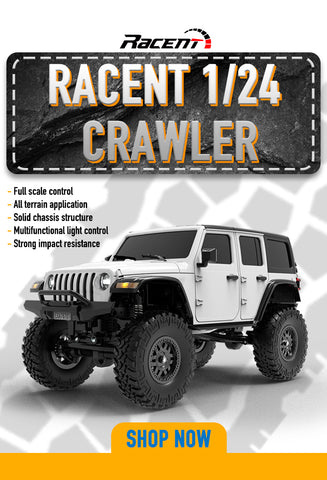 What is a Rock Crawler?
Rock Crawlers are remote control trucks designed for off-road driving, especially on rocky or rough terrain. They are built with special suspension and large wheels that allow them to navigate over rocks and other obstacles that would stop other RC cars in their tracks.
Why Choose a Racent Rock Crawler?RACENT is a leading manufacturer of RC cars, and their Rock Crawlers are among their most popular models. They are built with high-quality materials and designed to provide excellent performance and durability.
Features of the Racent Rock Crawler:
1/24 scale size
LED lights for night driving
4-wheel drive
High-quality suspension system
Powerful motor
How to Choose the Right Rock Crawler
When choosing a Rock Crawler, there are several factors to consider, including your level of experience, the type of terrain you'll be driving on, and your budget. The RACENT Rock Crawler is a great choice for beginners and experienced racers alike, thanks to its high-quality construction and excellent performance.
Conclusion
If you're looking for an exciting new hobby, or just want to upgrade your current RC car, a Rock Crawler is an excellent choice. With its powerful motor, high-quality suspension system, and LED lights, the RACENT Rock Crawler is a great option for anyone looking for a high-performance RC car. So why wait? Start exploring the world of Rock Crawling today!